PROFESSIONAL-QUALITY PHOTO BOOKS
Layflat

HARDCOVER

SOFTCOVER
---
Perfect Paper
Luxurious

Premium

Classic
SPECIAL DELIVERY
LAYFLAT GIFT BOXES
Every
Layflat
book arrives ready to impress in a luxurious, brilliant white box complete with pearl foil-stamping and elegant black ribbons.
Get Started
Choose a design tool.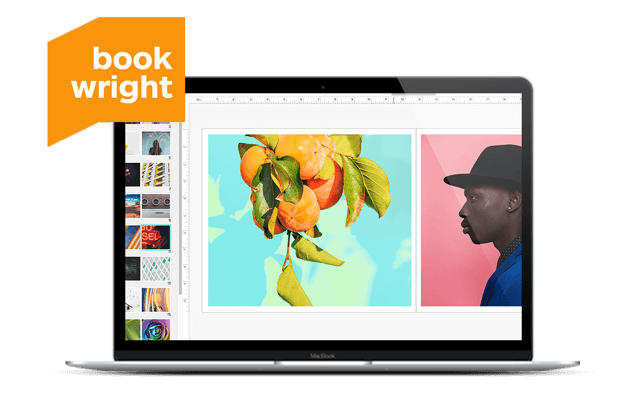 BookWright
Our free design tool offers complete creative control and a helping hand when you need it. Use the Quick Design option to create your book in three easy steps, try our customizable templates to get a head start, or design your own layouts from scratch.
DOWNLOAD BOOKWRIGHT
Adobe InDesign Plug-In
Create unique, print-ready books, magazines, or wall art as part of your InDesign workflow.
LEARN MORE
Adobe Lightroom Book Module
Already editing photos in Lightroom? Turn your digital galleries into beautifully printed books.
LEARN MORE
Create, Print & Sell Your Book
Design with BookWright

Create professional-quality books and enjoy creative control start to finish with our free design software.

Publish & Sell Worldwide

List your photo book in a few clicks and sell to a global audience via the Blurb Bookstore or Amazon.
Templates Make It Easy
Jump straight into your project with our free, fully customizable templates. Each page has been professionally designed to give your photos the showcase they deserve.
Frequently asked questions

Frequently asked questions

What is a photo book?
What is the difference between a photo book and a layflat book?
How do I make a photo book?
How much does a photo book cost?
What size should my photo book be?
How long will it take for my photo book to arrive?
Should I order a proof copy?


What is a photo book?

A photo book is a visually oriented book in which photography is the primary form of content. While most types of books can contain photographs, a true photo book significantly emphasizes images over text, providing a more visually engaging experience.

Photo books typically feature the work of a photographer but may also include professional touches of book editors and graphic designers to construct a cohesive narrative and a polished finished product. In the self-publishing world, photo books are one of the most popular types that can be created online and printed into physical hard copies.

For many bookmakers, the purpose of a photo book is to display and preserve photos through a creative and tangible outlet. They can be used as coffee table books with overarching themes or storylines, or provide the foundation for beautiful cookbooks, children's books, travel books, how-to guides, and creative portfolios. For more insights, try one of these 30 photo book ideas.

What is the difference between a photo book and a layflat book?

A layflat book is a type of photo book with key differentiators that make it unique. The main distinctions between a photo book and a layflat book are the type of paper and the binding design used in the book's construction.

As the name suggests, layflat books can open completely flat without damaging the binding. Compared to perfect-bound books, where individual pages are glued into the binding, layflat books use one continuous sheet of paper for each page spread that's folded down the center and glued to the next spread. This makes layflat photo books preferred for showcasing expansive photos in full-page spreads where the image runs across two facing pages. Non-layflat photo books, on the other hand, feel more like traditional books in that they use a perfect binding technique glued at the spine and cannot lay completely flat when open.

Layflat books generally have between 20 and 110 pages, whereas traditional photo books provide greater flexibility to have more, or fewer pages as needed. The paper thickness is also unique in layflat books, providing a different feel. When using Blurb for self-publishing, layflat paper options come in Premium Lustre, Mohawk Superfine Eggshell, or Mohawk ProPhoto Pearl paper. And because the pages are glued back-to-back with a thin insert, layflat books have ultra-thick pages.

How do I make a photo book?

There are multiple ways you can go about creating your own photo book. For a professional-quality finished product, you can use an online self-publishing service like Blurb, which allows you to custom design your photo book's layout based on various book sizes, types, and materials. It's easy to arrange your photography using Blurb's print-ready, customizable photo book templates, or you can design each page layout yourself.

Whether you use a self-publishing platform like Blurb or an alternative method, the fundamental process of making your photo book involves similar steps. First, you need to select the photos you'd like to include and organize your work in an arrangement that flows with your book's overarching narrative. Next, you'll want to choose a theme or layout that aligns with the nature of your photos and the overall book and begin constructing each page or collection of pages within each section. You may also want to include text, captions, and other design elements to improve your photo book's overall look and feel.

Other fine details can go into the process, such as editing photos, choosing a paper type, and selecting a book format. But with the help of platforms like Blurb, these options are seamlessly baked into the book-creating process, making it easy to bring your photo book to life.

How much does a photo book cost?

The cost of making a photo book depends on several variables, including the book's size, number of pages, type of cover, paper choice, and the volume of books being printed. Professional-quality photo books created using a self-publishing service like Blurb can start as low as $12 for a mini square 5×5-inch (13×13 cm) softcover book with twenty pages and can go up to $70 for a large landscape 13×11-inch (33×28 cm) book with an ImageWrap hardcover.

The choice of paper, such as a Premium Lustre or Mohawk Superfine, can increase the cost of printing a photo book. Layflat photo books can also be more costly to make. For instance, a 20-page layflat hardcover photo book can range between $60 for a small square photo book to upwards of $170 for a large landscape format with Mohawk Prophoto Pearl paper. These price estimates are all based on the cost of printing just one book. If you choose to print over 20 books, Blurb provides a 20% discount as well as additional volume printing options for large orders.

Given the wide range of options for making your own photo book, we recommend using our pricing calculator. By inputting your book's anticipated number of pages and how many copies to print, you can see the cost to make a photo book based on the different sizes, paper choices, and cover options.

What size should my photo book be?

The ideal size of your photo book will depend on the nature of your photography and the desired outcome of your project. For example, does your photo book need to be compact and portable, such as a portfolio handout? Or does it need to lay flat to capture full-spread landscape photos, like a coffee table book?

Your book's underlying purpose and photography style will help determine the best size for your photo book. Blurb offers six photo book trim sizes, ranging from mini square (5×5 inch) to large landscape (13×11 inch). The standard landscape photo book size (8x10 inch) is a great place to start for most projects. Learn more about the different size options and corresponding prices based on size, material, and number of pages.

How long will it take for my photo book to arrive?

With Blurb, once you've completed your photo book and placed the order, it takes about 7 to 11 business days for your book to arrive. The book production process requires approximately 4 to 5 business days to complete. The remaining delivery time depends on your selected shipping method and destination. At checkout, we'll provide you with estimated delivery dates.

Should I order a proof copy?

Yes! If you're considering self-publishing your own photo book with Blurb, ordering a proof copy is highly recommended. A proof copy is a single printed copy of your book that allows you to see how it looks when printed, bound, and trimmed by Blurb. It's often viewed as an essential step in the printing process to effectively catch any errors, typos, or design issues that may have been missed on screen.

A proof copy also provides an excellent opportunity to check the color and brightness of your images, as well as ensure that your content is properly placed within the trim guides. Blurb does not review or edit your content, so it's crucial to thoroughly review your proof copy before proceeding with a larger order or making your book available for sale.

Helpful Tips to Make Your Photo Book
Make a photo book with Blurb: getting started
Whether as a professional portfolio to support your career or a personal project to share with family and friends, photo books are a popular way to display and share your photography in a tangible, engaging way.

With the help of self-publishing platforms like Blurb, making a photo book is accessible to anyone with an internet connection and an idea. Photo books provide limitless creativity and flexibility in design, allowing you to create a layout from scratch or customize templates to call your own. You can also add picture effects, captions, and backdrops to give your photo book a more personal and artistic touch.

Key considerations when creating your photo book

When you create a photo book with Blurb, you have several exciting design choices. From selecting a book format, paper type, and size to arranging page layouts to make your photos pop, you have total creative control of your book's look and feel.


Book Cover: Blurb offers three types of book covers: softcover, hardcover dust jacket, and hardcover ImageWrap. Each offers its advantages, but if you want to create a layflat photo book to capture those stunning panoramic shots, choose a hardcover ImageWrap.
Paper Quality: Choose from a variety of paper types for photo books, including Premium Lustre, Premium Matte, Mohawk Superfine Eggshell, and Mohawk ProPhoto Pearl paper. Premium Lustre is perfect for photo books with more gloss and a thicker page, while Mohawk proPhoto Pearl offers archival-quality photographic paper for high-end photo books.
Book Dimensions: Blurb offers several different sizing options for photo books. While the available sizes depend on the book cover you choose, the primary options include:

Mini Square: 13x13 cm (5x5 in.)
Small Square: 18x18 cm (7x7 in.)
Standard Portrait: 20x25 cm (8x10 in.)
Standard Landscape: 25×20 cm (10x8 in.)
Large Landscape: 33x28 cm (13x11 in.)
Large Square: 30x30 cm (12x12 in.)

The process of making a photo book with Blurb

To make a photo book with Blurb, you can explore several avenues. Start with your book's design and layout:


You can use Blurb's proprietary software BookWright, which is free and easy to use. You can also use Adobe InDesign, Lightroom, or Photoshop to create your photo book with Blurb.
Blurb offers pre-made customizable photo book templates, or you can design each page yourself with a blank template.
Once you've designed your photo book, choose from a range of professional cover formats, paper types, and dimensions, as mentioned above.
With print-on-demand books, you can choose how many books you want to print, whether 1 or 100. No need to print more copies than you need!
Once your photo book is ready and you initiate your first print run, you can publish and sell it worldwide via the Blurb Bookstore, including Amazon and thousands of other indie bookstores.

A multitude of fine details go into this process, so we encourage you to explore related resources on how to make a great photo book, as well as niche topics of interest like custom coffee table photo book ideas and tips for travel photo books.

Custom photo books for any occasion

Creating a photo book isn't limited to professional photographers. It's also a great way to preserve memories and tell stories for many different occasions, such as:


Weddings: Capture the memorable moments from your big day and showcase your favorite photos from your wedding ceremony and reception.
Travel: Relive unforgettable travel experiences, stunning places you've been, and family vacations by creating a travel photo book album that you can keep and share.
Portfolios: Level up your professional status with a captivating portfolio you can share with prospective clients or employers.
Birthdays: The best gifts are timeless, and documenting the photos that capture a remarkable birthday celebration is one way to future-proof those special occasions.
Holidays: Share the family feeling, the food, and the smiles that make a holiday celebration special. Holiday photo books make for great keepsakes and gift ideas.
Sports Events: As the adage goes, a picture is worth a thousand words. Tell the story behind a sporting event with a stunning photo book that captures those pivotal moments.
Graduations: Turn these once-in-a-lifetime milestones into precious time capsules you can revisit and reflect on decades into the future.
Art Projects: Certain creative endeavors are worthy of a professional record, and customizing your photo book is a great way to turn art projects into tangible collections.

Photo books can be customized for any purpose, such as a baby's first year, a family trip album, or even a school yearbook. They make great gifts for grandparents and family as well as smart tools for creative professionals and recent graduates.

Use Blurb to start building your photo book

Blurb offers a range of professional formats, beautiful paper types, and limitless design capabilities to bring your photo book ideas to life. With easy-to-use bookmaking tools built-in and professional-quality print options, you can create the same exceptional finished product as a world-class publishing house. And if you want to take your book to market, Blurb enables entrepreneurial-minded creators to sell and distribute their books on Amazon as well as Blurb's own bookstore.